If you would like to check whether a car in Spain you are looking to buy is in a position to be transferred into your name then you can use the tool from the DGT website.
This service is now also available via the mobile phone app MiDGT. 
It is cheaper to request the report yourself. However, if after reading the notes below you feel it is too complicated, you haven't got the time or you just want someone to do it for you then we will order your report and send it to you by email. We charge a fee of 20.00 euros that includes the tariff payable to the Dirección General de Tráfico (DGT). Click the button below or read on.
Vehicle information report
Look for the icon "Informe reducido" or (report reduced if you have switched to English) in the sub-sectioned titled Acceso al servicio". Click on the link on the page.
Then the following screen will appear:
Select an identification method
This brief report says "sin incidencias". You can obtain a more detailed report for 8,67 euros (2022). The more detailed report, known as INTV (Informe Telemático de Vehículos) contains information such as the dates of the change of owners, the results of the ITV tests over the years, etcetera. It will also detail any embargoes or whether the vehicle has finance outstanding on it.
For the more detailed report on a car in Spain you have to pay the 8,67 euros before you receive it. You can go to the Regional Traffic office and pay by credit card. Alternatively, you can provide proof you have already paid it at a bank. Click this link to pay online or download a form to take to the bank to pay the fee to obtain the INTV vehicle report. If you don't have a digital signarture or Clave then click "generate quote"- The appropriate tax is found in the subsection Group IV. It is the first one in the list 4.1. You will need to complete your details and then click print.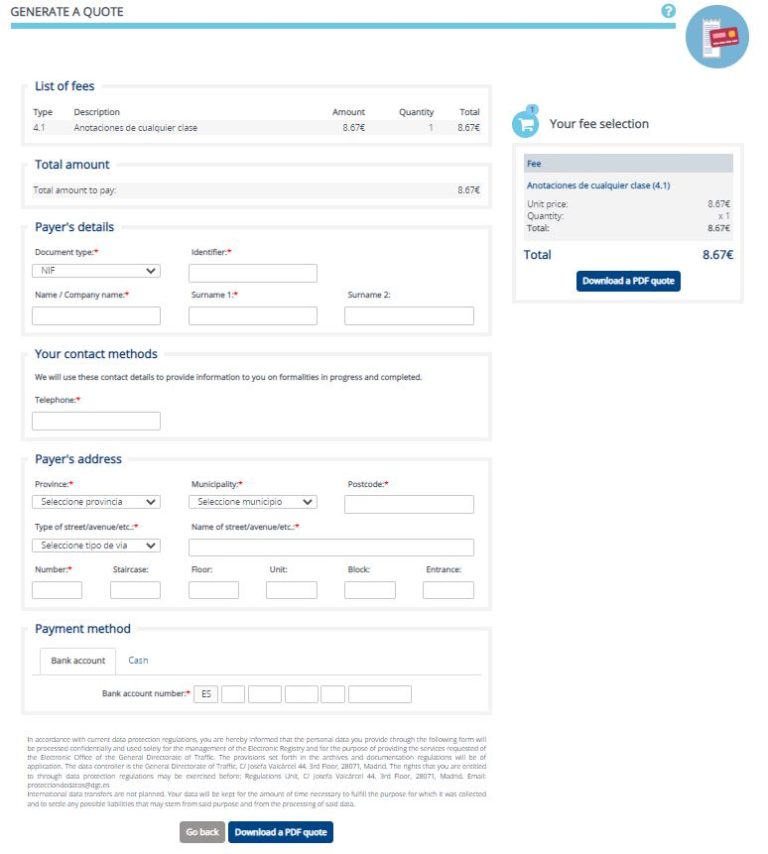 It makes more sense to either pay at the Regional Traffic Office and pick up the report at the time or pay online. The only reason I can see to pay through the bank is if you do not have a credit or debit card. If you pay online you can obtain the report straight away. Remember that you must make a pre-booked appointment at the Regional Traffic Office if you need to visit it.