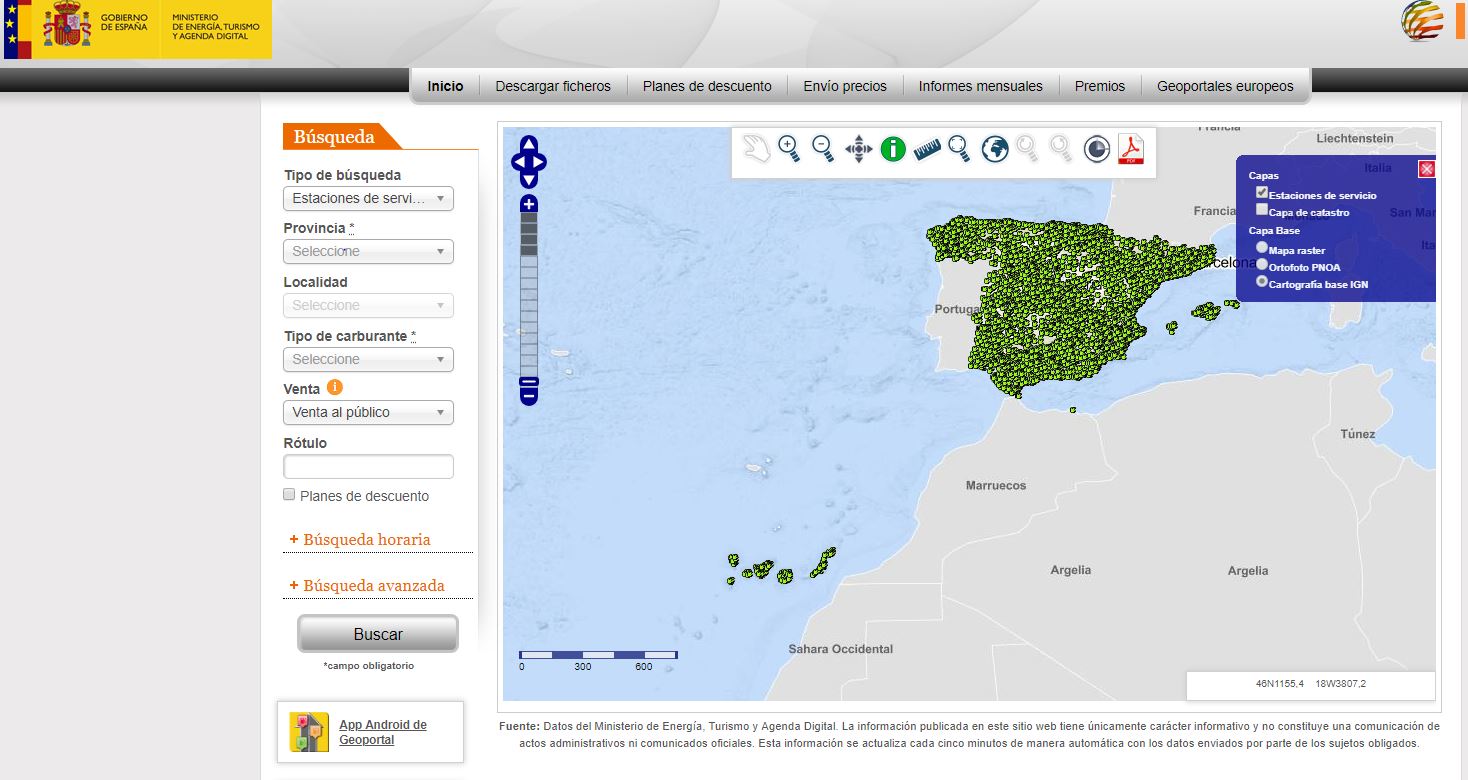 Apart from the three largest chains of petrol stations, Repsol, Cepsa and BP there are other outlets including an increasing number of small chains or independent service stations, where you can fill up.
The larger businesses will offer you a whole range of things on top of petrol. There is usually a café, you can buy your gas bottles and frequently there is an overpriced shop too. However, if what you are looking for is fuel for your vehicle and you don't fancy waiting for the shop assistant to finish making an expresso coffee for one customer, before serving the guy who is waiting to change his empty gas bottle for a full one then one of the more basic service stations might be the answer. They are often cheaper too, a lot cheaper.
They have recently been springing up all over. They don't usually have shops, they don't sell gas, nor charcoal. No one tries to sell you what is supposed to be the best olive oil in Spain when you are trying to pay, most don't have a jet wash and similarly, a lot don't have any staff. You can pay by credit card or cash.
If you visit one of these service stations without any staff and pay by cash you won't get any change. However, if you pay by credit card and ask for thirty euros but can only put in 25 euros before your tank is full, then the card is only charged 25 euros.
There are two of these types of petrol station side-by-side where I live. One actually has two people working most of the day whilst the other is totally self-service. You can imagine which one is doing more business, because until we get used to the machines it's nice to have some help. There are no other products to buy to distract the attendants.  The prices are around 6 cents a litre cheaper than the larger chains and I have seen the difference at more than that.
I do wonder how these smaller petrol stations are able to sell fuel at far lower prices without the add-ons that go with a cafe or shop but they manage it. I don't know, but it seems to me that the big guns must be making a huge profit if others can come in and undercut by so much, without any of the additional income from purchases that people might make at a large chain service station.
Furthermore, you can also try this web link to find what the prices are in your area of Spain.
Below is a guide on how to find cheap petrol in your area.
Once you are on the website you will see a screen like this.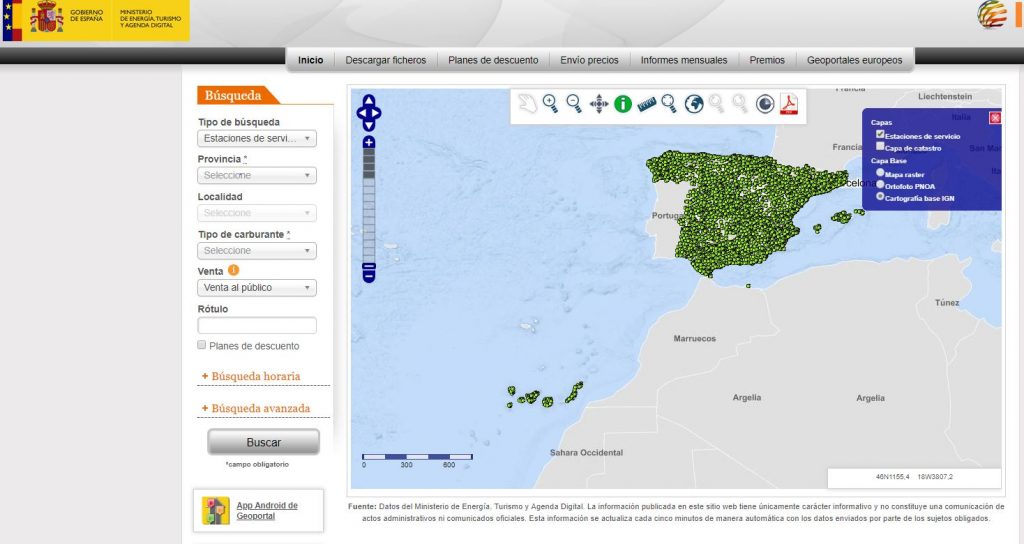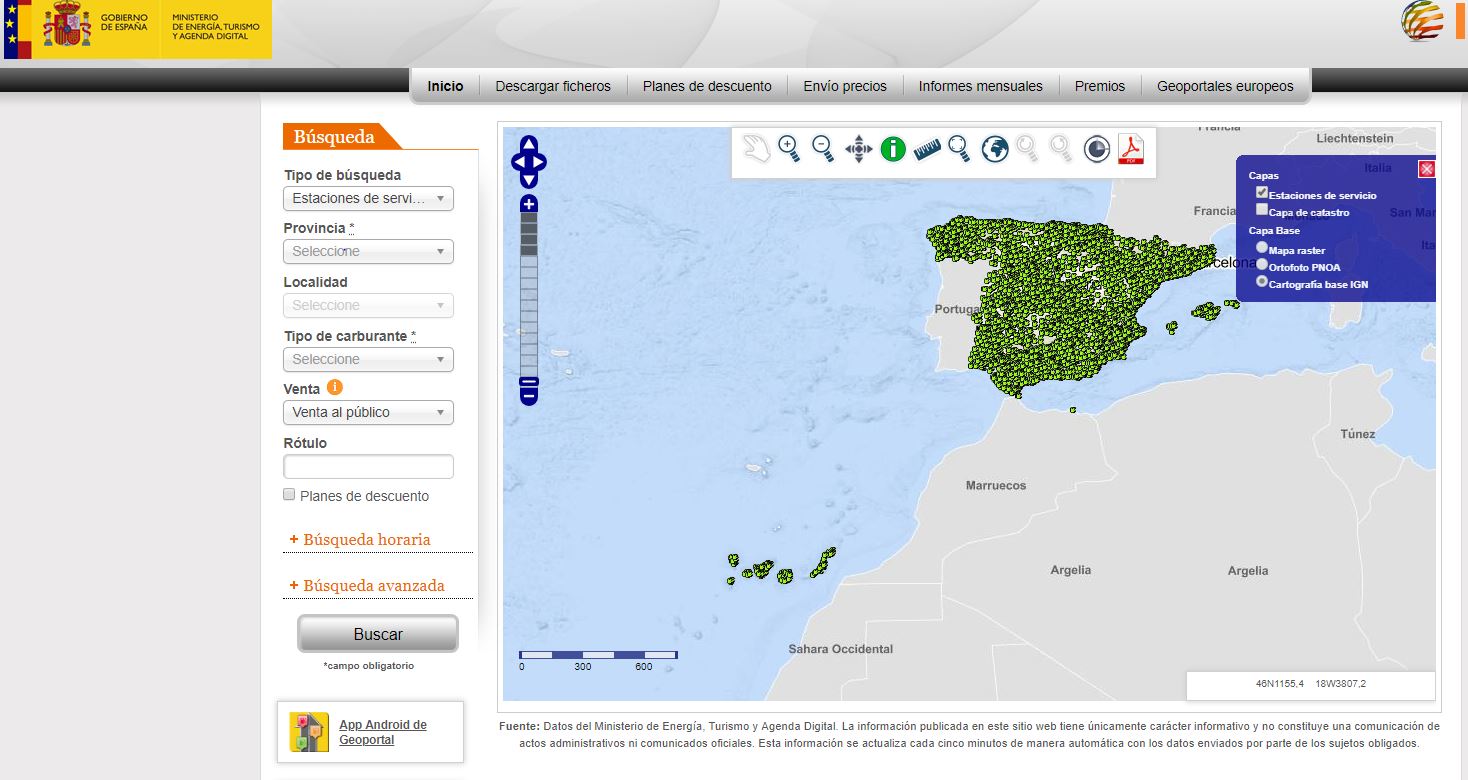 On the left hand side you have a menu.
The first option should be left as "Estaciones de serv…".
In the second option down you select the "provincia" where you live.
You can then narrow the search down by selecting your "localidad" or town. The "Tipo de carburante" is the fuel you want.
Then venta should be set to "venta al publico" which means it is sold to the general public.
Below the option Rótulo you will see appear EES más económicas.
If you tick this box it will firstly select the cheapest petrol stations for your fuel type.
Under "Búsqueda avanzada" you can even enter your post code to further narrow the search.