The General Directorate of Traffic has finalized the distribution throughout the Spanish territory of the 39 surveillance drones -28 more than in 2020. The drones will be used to support the twelve traffic helicopters used by the traffic section of the Guardia civil.
In May 2018 the drones began to be used in test mode and since August 2019 they have been used for the surveillance and detection of traffic infractions.
The drones are intended for the detection of reckless behavior on the roads and the surveillance of traffic in those sections of high risk of accidents. Additionally, they will be positioned on roads with a greater traffic of vulnerable users, in particular cyclists, motorcyclists and pedestrians.
They will also be used to monitor and support regulation in operations and special events in which a high number of road movements are concentrated. They could also be used for ordinary regulatory missions complementary to those carried out by helicopters; and to support emergencies.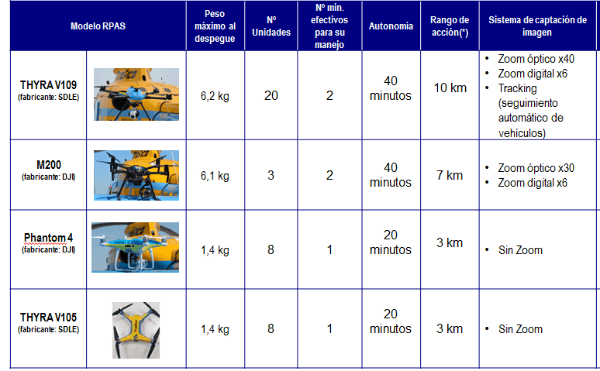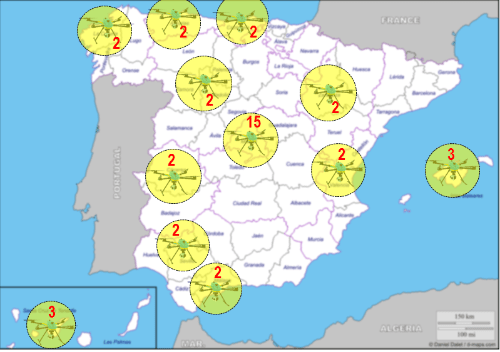 The DGT has trained 35 personnel in piloting the drones and 60 personnel in handling the cameras that these systems integrate. The General Directorate of Traffic is accredited by the State Agency for Aviation Safety as an operator of remotely piloted aircraft systems. Likewise, the DGT helicopter unit is a pilot training organization for the issuance of basic and advanced certificates for piloting drones.
The operation of these drones is carried out by a pilot, who is in charge of handling the flight controls, and an operator who maneuvers the camera.
The infraction captured by drones may be notified immediately by an agent of the Traffic Group of the Civil Guard or be processed later by the competent authorities. 
The 39 drones will be distributed throughout the country, except the Basque Country and Catalonia.
Each DGT helicopter patrol based in A Coruña, Zaragoza, Valladolid, Seville, Malaga and Valencia will have two drones to carry out operations in their local area of ​​influence. The central base in Madrid will have 15 aircraft that, in addition to flying over the roads of the Community of Madrid and Castilla la Mancha, will provide support to the rest of the provinces of the national territory that need it.
For their part, Cantabria, Asturias and Extremadura will have two drones per area; and the island areas of the Balearic and Canary Islands, with three units each.
History of drones and traffic infractions in Spain
Since the start of the drone traffic surveillance activity in 2018, the DGT has accumulated 500 flight hours with these systems, has monitored more than 55,000 vehicles and has detected more than 600 infractions. It has become one of the most effective means of detecting the use of mobile telephones behind the wheel (they represent 12.5% ​​of the total infractions detected), the incorrect use of seat belts and child restraint systems (15, 9%), and overtaking cyclists without respecting the minimum safety distances (4%).